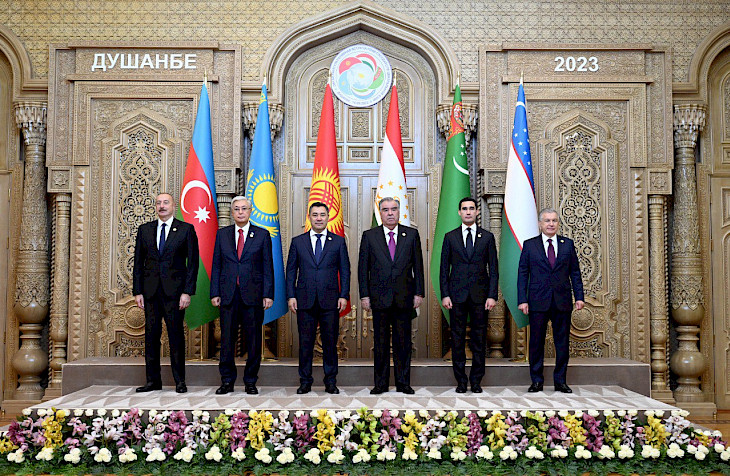 Water and Security Top Agenda at Central Asia leaders' Summit
The leaders of five Central Asian countries and Azerbaijan gathered in Dushanbe last week for a summit that focused on regional cooperation, security and water issues amid the changing situation in neighbouring Afghanistan.
The fifth annual Consultative Meeting of the Leaders of Central Asia brought together the presidents of Uzbekistan, Turkmenistan, Tajikistan, Kyrgyzstan and Kazakhstan, as well as Azerbaijani President Ilham Aliyev, who was invited as an "honoured guest" by Tajik President Emomali Rahmon.
The summit was held against the backdrop of the Taliban's takeover of Afghanistan last year, which raised concerns about the stability and security of the region. Tajikistan, which shares a 1,400-kilometer (870-mile) border with Afghanistan, has been particularly alarmed by the presence of militants affiliated with Jamaat Ansarrulah, an Islamist extremist group that is considered a terrorist organization by Dushanbe.
Rahmon said at the summit that his country had faced two "alarming" attempts by Jamaat Ansarrulah members to cross the border and carry out terrorist attacks in Tajikistan in late August and early September. He called for increased cooperation among the Central Asian states to combat terrorism and extremism.
"We need to strengthen our joint efforts to ensure regional security and stability, to prevent the spread of radicalism and extremism, to counter drug trafficking and other transnational threats and challenges," Rahmon said.
The summit also addressed the growing water crisis in Central Asia, where climate change, population growth and inefficient management have led to water shortages and disputes over shared resources. The region depends heavily on the Amu Darya and Syr Darya rivers, which originate in the mountains of Tajikistan and Kyrgyzstan and flow through Uzbekistan, Turkmenistan and Kazakhstan before reaching the Aral Sea.
Kyrgyz President Sadyr Japarov proposed to revive a 1998 agreement among the four downstream countries that provides for a balanced exchange of water and energy resources. He said the agreement, which has not been fully implemented, could help resolve the conflicts over water allocation and hydropower development.
"I propose to begin work on renewing and improving cooperation within the framework of the 1998 agreement on the use of water and energy resources of the Naryn/Syr-Darya [basin] between Kazakhstan, Kyrgyzstan, Uzbekistan and Tajikistan," Japarov said.
The summit also discussed ways to enhance economic integration and trade among the Central Asian countries, which have a combined population of about 75 million and a gross domestic product of about $300 billion. The leaders agreed to create a regional program to develop trade and logistics chains, to establish cross-border trade centers and to facilitate visa regimes.
Azerbaijani President Aliyev, whose country is located in the South Caucasus but has close ties with Central Asia, praised the summit as a platform for dialogue and cooperation. He said Azerbaijan was ready to share its experience and expertise in various fields with its Central Asian partners.
"We are interested in expanding our relations with Central Asian countries in all spheres. We have common historical roots, common culture, common values. We are friends and brothers," Aliyev said.
The summit concluded with a joint declaration that reaffirmed the commitment of the participants to strengthen regional cooperation and solidarity. The declaration also expressed support for the sovereignty, independence and territorial integrity of Afghanistan and called for an inclusive government that respects human rights and international law.
The next summit of the Central Asian leaders will be held in Turkmenistan in 2024.